In today's world, it's expedient to have a minimal understanding of the necessary roofing terms to communicate appropriately with your contractors and vendors. When it comes to reroofing, no other single topic can confuse people more than the differences between commercial and residential roofing. There are some significant differences in how each roofing type is maintained and repaired, which can be unnerving for anyone new to the industry. Fortunately, this blog post will help you quickly identify whether you have a residential or commercial roof, so you know what to do.
What are Commercial and Residential Roofs?
A residential roof is the covering made for a residential building, while a commercial roof is for a commercial property. Commercial and residential roofs are both intended to act as coverings for structures. They also protect the inhabitants of buildings from external dangers and harsh climatic conditions.
How Does Residential Roofing Differ From Commercial Roofing?
Residential and commercial roofing differ in many areas, even though they both serve similar purposes. Let's examine these differences below:
Maintenance and repair
Both residential and commercial roofs must be maintained and repaired to keep them functional since they are both exposed to external elements. However, the degree of maintenance is different for both tops. While residential roofs are less likely to require as much care and repairs, commercial roofs would need frequent inspections, maintenance, and repairs.
Commercial roofing companies must adhere to a higher standard of maintenance and repair. Commercial roofing is more exposed to wear and tear and experiences more strain and stress than residential roofs. That means that commercial roofs are replaced more frequently and repaired more extensively than residential roofs.
Commercial roofing systems are more likely to experience leaks and water damage than residential roofs. In either case, you should contact a professional roofing contractor to effect repairs where and when necessary.
Differences in Construction
Aside from differences in maintenance and repairs, residential and commercial roof construction differ. A single-ply membrane is commonly used on residential roofs, whereas commercial roofs typically have multiple layers of insulation, vapor barriers, and other materials. These layers offer additional resistance to water damage and extreme temperatures.
Commercial roofing also necessitates stricter building codes, such as fire protection and ventilation systems. These regulations contribute to the building's and its occupants' safety.
Materials
Residential roofing materials and commercial roofing materials differ significantly. Residential roofs are typically made of asphalt shingles, which are inexpensive and simple to install on a variety of roof shapes. These shingles are frequently lightweight, making repair and replacement simple.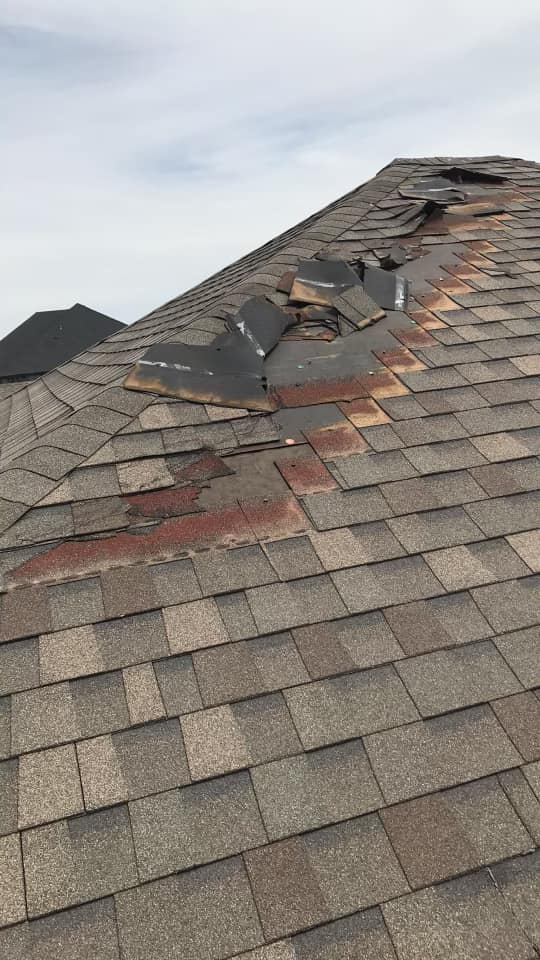 Commercial roofs, on the other hand, are typically made of metal, rubber, or thermoplastic polyolefin. These materials outperform asphalt shingles in terms of durability and longevity, making them ideal for commercial buildings. Commercial roofs are also built to withstand high winds and extreme temperatures, making them more suitable for commercial use.
Shape
The shapes of residential and commercial roofs differ as well. A typical residential roof is steep and sloppy, whereas a commercial roof is mostly flat. Due to their flat surfaces, commercial roofs can be used as rooftop gardens due to their flat surface. Solar panels can also be installed on the rooftops of commercial buildings.
Cost
The cost of commercial and residential roofing differs as well. Depending on the materials used, residential roofs can be relatively inexpensive. Because of the layers of materials and other requirements, commercial roofing can be costly. Furthermore, commercial roofing necessitates specialized installation, which can raise the overall cost.
Benefits of hiring a professional roofing contractor
Hiring a professional roofing contractor is a great way to ensure that your roof is correctly and safely installed.
Professional roofers have the technical know-how and experience to install your roof correctly. They can advise you on the best roofing materials for your particular roof, whether residential or commercial.
Professional roofers can help you determine the best roofing system for your home or business and ensure that you construct your roof to the highest quality standards.
A professional roofer will be able to inspect your roof regularly and identify any potential issues before they become more serious. In the long run, that can save you time and money and reduce the risk of significant damage to your home.
Professional roofers are familiar with local building codes and regulations and can ensure that your roof is up to code. Knowing that your roof is safe and secure can provide peace of mind.
Professional roofers can provide valuable advice about maintenance and repairs, helping you keep your roof in good condition for years to come.
Why you should choose Mayfield Roofing Inc. for all your roofing services
When you need a roofing contractor in Amarillo, TX, you should contact Mayfield Roofing Inc. We have over sixty years of experience in the roofing business. We serve customers all across North Texas and the Texas Panhandle Communities. We have the correct tools and equipment to handle all residential and commercial roofing projects.
Our roofing services include:
Residential Roofing
Commercial Roofing
Roofing Repair and Replacement
Gutter Guard Installation
Gutter Replacements
Siding Installation and Repair
Skylight Installation and Screens
Window replacement and repair
New roof installation
Mayfield Roofing Inc. is committed to ensuring our customers' satisfaction. We take pride in being fully licensed, bonded, and insured so that our customers can rest assured that they will receive the quality services that they deserve. We are also registered contractors for a number of major brands and members of local, state, and national associations.
Our Amarillo office's metal shop allows us to fabricate customized metal roofing, ensuring that you receive the highest quality products and services from us.
We offer free estimates and work with all insurance companies to ensure proper roof repairs and replacements. With roof replacements, we also provide a workmanship warranty as well as a manufacturer's warranty.
Contact us for all your roofing needs!
Our Amarillo location is at 4803 Catalpa Ln, Amarillo, TX 79110.
Call us at (806) 352-5649 or (806) 352-5630.
Please email us at admin@mayfieldroofinginc.com.